UNIQUELY HANDCRAFTED
At Newbury & Co., we believe that the art of scent selection is a wonderful life-changing experience. Inspired by the inviting grandeur of Newbury Street, we are sure to include a little hint of Boston as we create each thoughtfully made jar.
Our hand-poured, lovingly-made candles are specially crafted in small batches, exclusively using 100% natural soy wax combined with aromatically pleasing candle fragrance oils for an eco-friendly approach. Allow us to bring the aroma of luxury right to your doorstep here in India. 
LEARN MORE
Ethically sourced
All Newbury and Co. candles are made of premium soy wax and lead-free pure cotton braided wicks that produce a clean, steady, and beautiful flame. To ensure that every candle is of unmatched quality, we carefully select premium fragrance blends free of any preservatives and phthalate that are uniquely fresh and uplifting for you.
Our candles are delicately handcrafted without cruelty to animals or the environment. In addition, all our luxe jars come with a seeded dust cover for you to grow your own planter after the life of the candle.
As you open your thoughtfully gorgeous gift box, each candle gift set will serve as the ideal comfort for yourself or a deserving loved one. Tempted yet?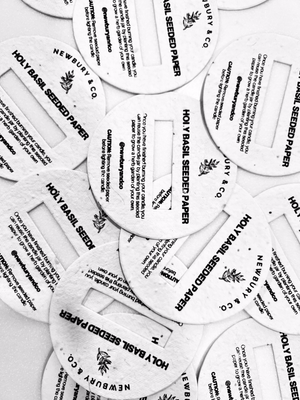 SEED PAPER
We're proud to help empower our consumers to make better choices for our planet. Our luxury candles come in beautiful reusable brushed metal jars, capped with a layer of protective seeded Holy Basil herb paper to reduce post-consumer material and celebrate moments in an eco-conscious manner.
Make sure you keep hold of this paper so you can re-cycle your metal vessel from our luxury range.
Once you have finished burning your candle, simply follow the instructions below to use the seeded paper and grow your very own herb garden.
LEARN HOW TO USE OUR SEED PAPER
STEP 1 - PREPARE YOUR POT & PLANT THE PAPER
Herb seeds require good drainage to ensure healthy growth. We recommend sourcing a small coir or peat pot from your local plant nursery to pop into your Newbury and Co. vessel before adding your seeded paper. Dampen your seeded paper in water until soft and then lightly cover with remaining soil.
STEP 2 - CARE DURING GERMINATION
The seeds in our seeded paper require a little bit of attention, love, and care throughout the germination period. Many seeds are embedded in the thickness of the paper and if it dries and hardens, the shoots will not be able to push through. It is crucial that during the first week that the paper is kept damp (not soggy) at all times.
STEP 3 - ENJOY YOUR NEWBURY & CO. PLANTER!
Germination should take 8 – 20 days. Make sure you leave your pot in a location that gets ample sunlight and is protected from extreme temperatures, humidity, and strong light. Once sprouts appear, continue to keep the paper moist but be careful not to overwater. Once sturdy herbs appear, water as needed and enjoy!
Remember to share pictures on social using #Upcyclenewbury
UPCYCLING
Are you looking for décor pieces, vanity storage solutions, or a planter for your work desk? Luckily, this is all possible and more with our beautiful brushed metal candle vessels. 
There are a myriad of ways to clean out leftover wax from your vessels. However, the simplest method would be to gently remove any leftover wax, as well as the wick stickers from the bottom of the jar using a butter knife or a spoon. Then, fill the vessel with soap and hot water and let it sit for a minute, before scrubbing the inside clean. The jar is now ready for you to repurpose.
The options are truly endless when it comes to sustainable reuse. We'd love to see how you style and upcycle our vessels, so don't forget to share your creations with us on Instagram.